HOD's Desk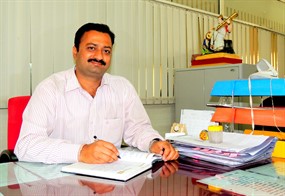 "Education is to be enjoyed and imbibed for life"
The Department of Computer Engineering was established in the year 2001 with the University of Pune affiliation and approved by AICTE with objective of divulging quality education in the field of Computing.
The new generation of aspirants exhibit skills and talents of unparalleled genius. The future belongs to those who are Inquires, Knowledgeable, Thinkers, Principled, Communicators, Open minded, Risk takers and Reflective. Guided by these virtues, we run our programs with Undergraduate with the intake of 60 which eventually has amplified to current intake of 300, Postgraduate (Computer Engg.) with intake of 18 and Doctorate program in computer engineering. Computer Engineering Department offers spectrum of activities leading to multiple experiences and enrichment of students. Each of these activities is like the beads of a rosary, tied to a common thread – of Trust and Excellence.
We  believe in openness of mind, dignity of conduct and mutual respect in the background of social, economic, cultural religious and linguistic diversity and develop a confident understanding of the role of a student in the international society and our graduates  have moved on  to some of the most  prestigious  Universities around the world .We have our recent graduates studying at London School of Economics, Stanford University, New York university, Michigan University, IIT, IMT, MDI and our faculties studying at Aalborg University etc.
We believe that Education's purpose is to replace an empty mind with an open one. We are of the conviction that   giving roots of values is significant so that that our pupils remain firmly rooted to the ground. We give our students wings of ambition, so that they can soar like falcons to touch the skies and endeavor to make them global citizens who can look beyond geographical boundaries and promote a culture of Peace and universal brotherhood.
We are committed to build a lifelong relationship, a happy confident young individual and a better human being to make this world a better place to live. Computer Engineering Department is an unparalleled experience for Life.
I look forward to welcoming you to our department and call upon the aspirants to avail the facilities and opportunities this young and dedicated department with Undergraduate, Postgraduate and Doctorate Course is providing in building their career and thus contributing to national/international development.
Prof. R. H. Borhade
Head of Department